We're thrilled to introduce the open beta of SmartPriority powered by DuveAI. This groundbreaking addition empowers you to streamline your communication processes and efficiently focus on critical messages within your Communication Hub. With SmartPriority, managing guest interactions has never been easier or more efficient.
DuveAI will analyze all of the incoming messages received in your Communication Hub and will auto-prioritize them based on a multi-factor formula based on the guest sentiment, the conversation topic, and the guest journey stage. The incoming messages will be auto-categorized upon priority level: Low, Medium, and High.
The incoming messages will be rated by level of negative sentiment: Low, Medium and High.
Please Note: *This access is planned to continue until December 31, 2023, and your usage of DuveAI's SmartPriority during this time will be without charge. At the completion of this period, SmartPriority will be available as an add-on feature at an additional cost.
Privacy notice:
Features powered by DuveAI leverages OpenAI's API. While we strive to remove all personal data before sharing text with OpenAI, we cannot guarantee complete exclusion of guest personal information, especially from "free text" fields. Additionally, OpenAI LLC will be added as a subprocessor. It is important to note that OpenAI's tool will not make any automated decisions; rather, it will provide insights to help you make more effective and timely actions, enabling you to enhance your guests' experience. To learn more about OpenAI's terms & policies, please visit
this
page.
How Does it Work?
Enable Duve AI directly in Duve. Click on Settings > Communication > Basic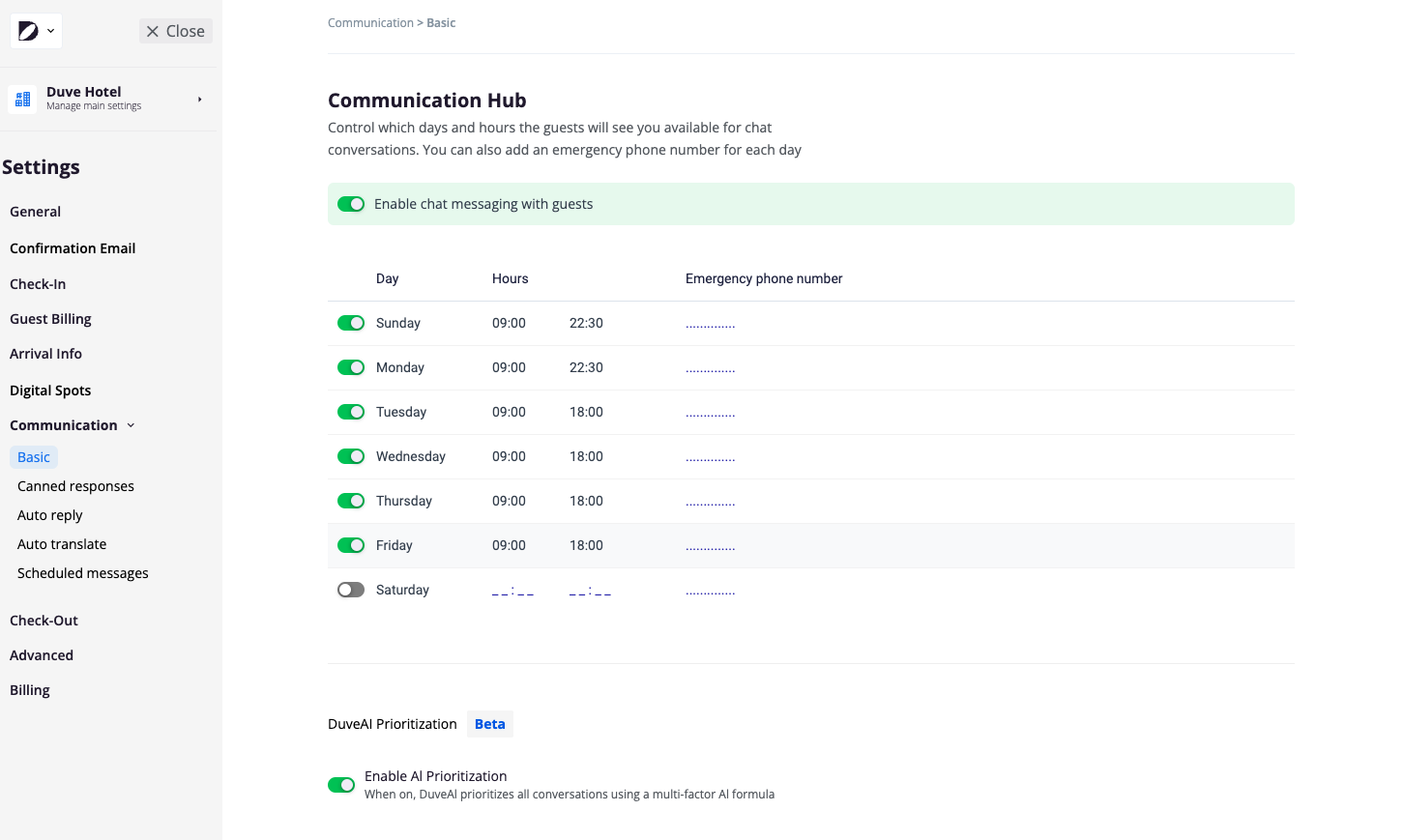 In the Communication Hub, when a message is marked with negative sentiment, the conversation will be marked with the Priority flag according to the Duve AI formula.
The Duve AI formula calculates the level of Negative Sentiment based on three factors: Sentiment, Topic and timing in the Guest Journey.
After the initial priority calculation, DuveAI will continue to analyze and auto-calculate the priority dynamically.
Hovering over the tooltip icon will showcase the formula factors used for prioritizing the conversation.
To rate Duve AI,
click the 'thumbs up' or 'thumbs down'
icons if the sentiment was recognized properly.
The icons are clickable and you can select one of them in order to approve or reject Duve AI's rating.
By clicking one of the icons, a comment window will open to add feedback about Duve AI.
Notifications
Furthermore, there are Profile Notifications options avalable under
Edit Profile.
Add a notification or email when DuveAI prioritizes a conversation based on the guest's negative sentiment
Once you add the notification emails, the user will start to receive notification emails to their inbox - >