The hotel/technician assigned to the hotel will contact ASSA ABLOY Licensing department to acquire a mobile key license (this contains the link from visionline to your credential services tenant account). The technician will take care of updating the visionline.
Purchase the mobile key license from Assa Abloy with the provider 'Servi Smart Solutions'
Once the mobile key is bought from the AssaAbloy side, the connection will be able to be established in Duve.
How to Set it Up
Please note that the Agent is only supported for Windows 14 and Windows 12.
To start the setup of Assa Abloy, please contact Duve Support.
In the meantime, on your Visionline server, the Assa Abloy technician must create a separate system manager operator for ServiSmart
Permissions for this user

must be

a

system manager

and an

operator

UserID: servismart
Password (Example): service.duve1234
You will receive an agent to download to the Assa Abloy server to allow Duve access to the rooms. Depending on whether the processor on the keys server computer is 64 or 32 bit, you will receive a different agent.
Note: Only the Admin user of the Assa Abloy server can complete this process.
After you receive the Agent, open the file on the computer with the Keys Server and you will see 4 items.
Click the last file named 'install.bat' in order to download the Duve agent
Then a pop-up will open depending if you're an Admin on the current computer
Click yes to install the agent
Then a black window with the summary will be opened
If the operation is completed successfully, you will see the Success message. Once you see the Success message, you can close it and you're done!
In case, you do not see 'operation completed successfully' please reach out to Duve Support with a screenshot of the window that you see.


Complete the Connection
Go to Settings > Advanced > Key Providers and add Assa Abloy as a new Key Provider
Enter the Username and Password (as created for the system manager operator)
Enter https://localhost:9090 for the Server's IP/DNS
Select the Duve Agent for the Remote Node ID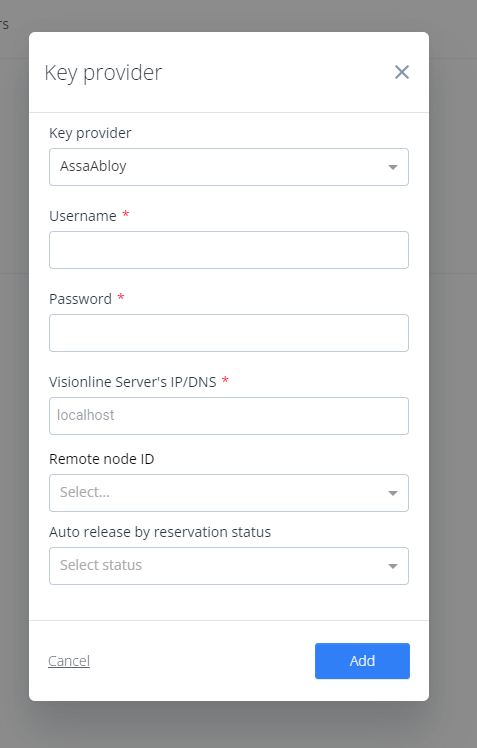 Go to Settings>Check-in> Guest login and activate 2FA for login guest.
Go to the Rooms/ Rentals page in your Duve account and go into each Room/ Rental and assign each key to the corresponding Room under Key Provider.
Save.
When the key is confirmed, the field will be green.
`
Done! Your guests will now be able to access their room key from their Guest App!