Airbnb is the most popular platform to list your vacation rentals (currently have 150M rentals and counting). Sometimes details (e.g. phone, email) are not synced from Airbnb into the PMS and thus, to Duve. To make the most out of Duve's automations, the guest's contact details are extremely important.
What can we do about it?
Follow these instructions to ensure Airbnb enables sharing guest emails to your PMS. Please refer to the this article.
Please note that this is not supported for Airbnb iCal links
Incorporate the link of the Duve Check-in portal into an automated message sent from Airbnb to direct the guests to complete the Check-in.

Important - guests will need their (PMS or Airbnb) reservation number to complete the Pre-Check-in. Duve supports most PMSs Airbnb's reservation number.

All communication from that point forward will be from Duve since the guest updated their email in the Pre Check-in
How to Add the Check-in Portal link to your Airbnb Messaging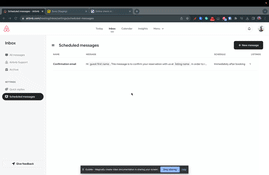 If Airbnb reservations are synced to Duve with a contact phone number, it is possible to create a Pre-scheduled message/Confirmation message directing them to complete the online check-in.

Important - Based on the customer's geographic location, we advise our customers to use the preferred communication channels for each region (WhatsApp and SMS) to contact their guests

US-based businesses are advised to use SMS (WhatsApp is not widely used in that region)
Europe and everywhere else are advised to use WhatsApp as a main communication method as well as SMS.