We are excited to announce the release of our latest Guest App version, which comes packed with a range of new features and improvements.
We improved the Guest App to help drive higher guest engagement through a streamlined app, with seamless navigation and a sleek modern look. Our new Guest-App improves functionality and flexibility for you as a host to drive higher guest engagement. Some of the changes for the Guest App include a centralized feed, a new menu bar, a cover image that supports gallery mode, personal information about the reservation, and quick actions icons such as room code/key, wifi details, room control, and invite.
New Guest App functionalities
Create sections using carousels, lists (with or without images), and banners.
Easily add maps, upsells, and room upgrades to your Guest App in just one click.
Add upsells by simply selecting an upsell from a dropdown list of your active upsells.
Customize your Guest App with cover images in carousel format, and more unique branding options.
New Terminology
Guidebook is now called.. The Guest App

Categories are now called... Sections
Posts are now called... Pages
In the case that the first content block of a post is an image block, the new cover image component will use this image as a thumbnail.
The Map section is replaced with the Map Widget
If you have posts or upsells with locations, the 'Map' widget will appear in the editor automatically.

The Room Upgrade widget will appear automatically if you have active Room Upgrades in your account

The Recommended Upsells section is replaced with the Top Picks for You Widget
If you have active upsells, the 'Recommended Upsells' widget will appear in the editor automatically.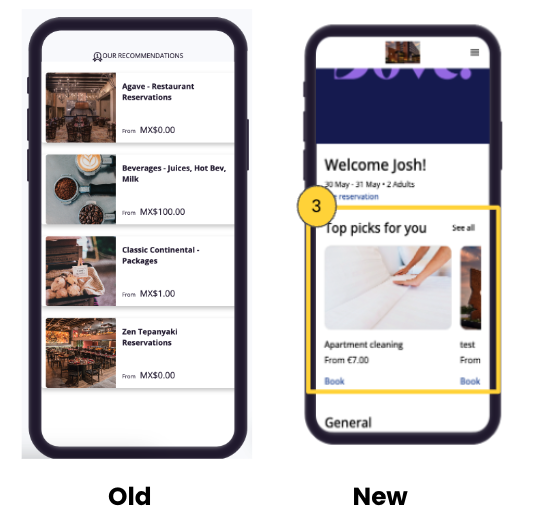 To take a virtual tour of the Guest App, click
here
For more information on the full Guest App builder, click Here.
Migrating your Guest App
The option to migrate to the new Guest App appears at the top of the page for users with Manager permission only. Click on the button to switch to the New Guest App Builder. Switching to the new version will not affect any of your guest facing content unless published.
Click on the right "Switch to new version", and you will be redirected to our new Guest App builder. All the content that exists in your current Guidebook will be converted to your new Guest App.
You can choose at any time to switch to the new Guest App or to stay with the old Guidebook. If you would like to revert back to the old Guidebook feel, use the three vertical dots icon and click 'Go back to old version'.
Publishing your Guest App will affect the changes to your guest's view.
Once you click "Save and Publish" you will not be able to go back to your old Guidebook.
All existing* content will be
migrated
to new builder, and then all users can use the new builder.
*The migration happens only
once.
If new content is added to the old Guidebook it will
not
be migrated over to the new version.
Switch to the new Guest App by clicking 'Save and Publish' ➝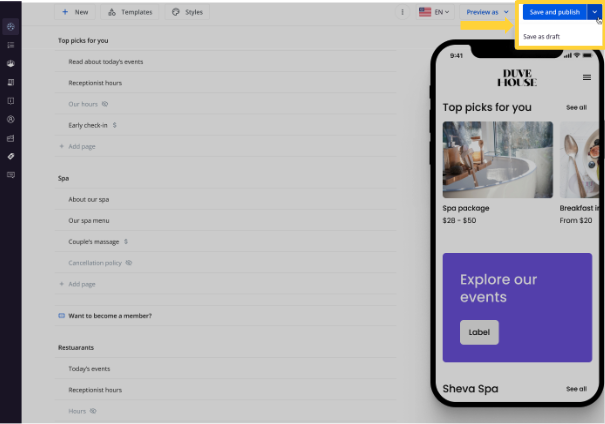 What does it look like?
Styles
Within the new Styles page, easily create an individual style for your Guest App. Editing Styles in the Guest App will overrwrite the branding settings of the account.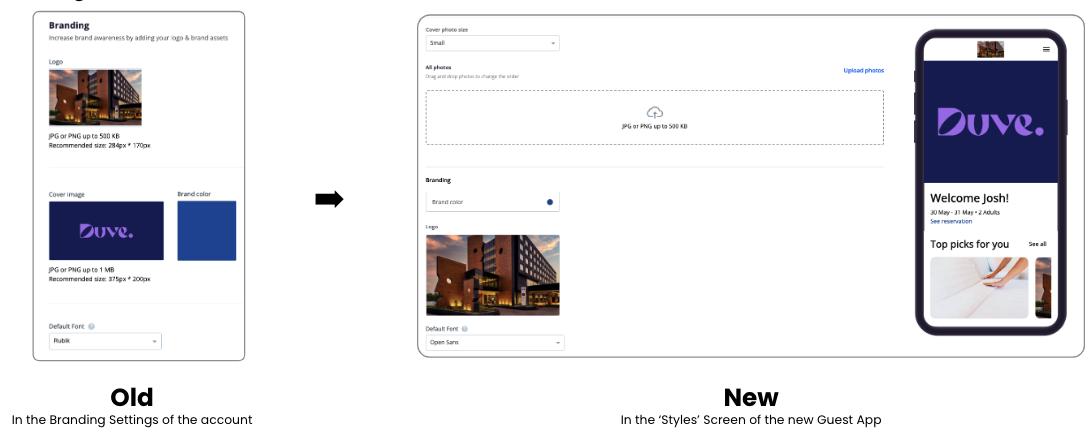 The Styles page affects only the Guest App setup. All branding of your emails as pre-check-in emails, confirmation emails, pre check-out emails will be set from the Branding page.
'General' Category
The General category will migrate only custom posts that are included in this section. All of Duve's predefined posts (arrival info, departure info, etc.) will not be migrated.

Go Live Checklist
We've put together this checklist to help ensure that you're ready to publish your new Guest App!

Webinar Recording
The Concierge by Duve hosted a webinar on June 7th to present the New Guest App to our current and potential customers.
To View the webinar recording, click here: https://us02web.zoom.us/rec/share/6WnUmgfT1xn6uivd0PJuRMrltYQOm4JcO9_qLZB1DPfLNsG-yaBQmYYiTaKLGd0.N9-HLTpsmFC_jjIY
Passcode: R2#GP1!Z