Duve enables hosts to offer their guests an upsell for a Room Upgrade during their Pre Check-In process.
A Room Upgrade is an upsell offer for guests to pay x amount to stay in a higher-level room during their stay. This can be offered at full price or discounted price, the guest can also bid for it. It gives the guest an opportunity to upgrade their stay, and adds value for the hotel by filling their higher priced rooms.
This feature is available for Hotels Property Type only
How to Set it Up?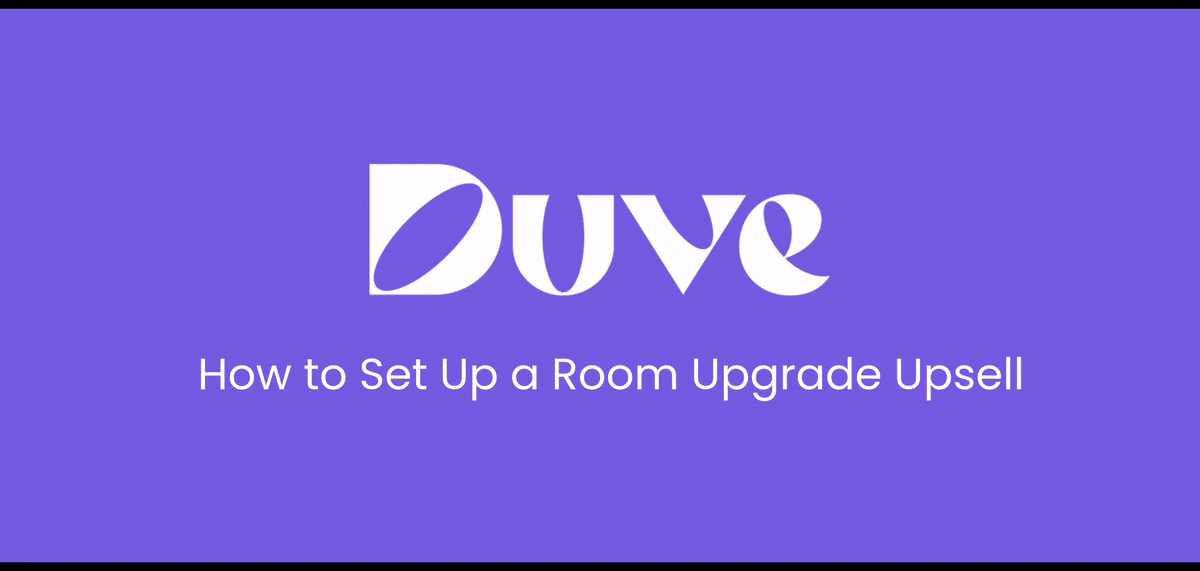 First, make sure all your rooms have the information needed, go to Rooms > Room type > set up description, amenities, add photos, etc.
The next step after setting up your room's information is to go to Upsells > Manage
Click on Add new and choose Room upgrade
Select Brands (if applicable)
Description
This is what your guests will see when this upsell is presented to them.
Booking options
Instant - Guests can instantly book from availability (Duve or Live Availability in Optima and Opera)
Required Approval - hosts need to approve the upgrade request (recommended option over instant to avoid issues)
Guest Bidding - allows guests to offer a bid for a room upgrade in the amount that they choose which hotel either approves or doesn't
Room Types
Choose room types to be included in the room upgrade option.
You also have the option to edit the room types within Room Upgrade.
Price levels
Build your pricing level with the lowest and highest-priced rooms.
Default Pricing
Set your default price for the upgrade.
Payment method
There are two payment options in Duve:
Payment by Cash/ Add to Hotel Bill - Collected upon "Check-In" or Collected upon "Check-out" (for hotels only)
Payment by Credit Card (Payment by Credit Card is only possible if a payment provider is connected).
Availability
Block the visibility of the room upgrade upsell relative to the guest's Check in date
Discount (optional)
You can choose to enable discounts for the guests and choose how much discount the guests who will book their room upgrade through Duve will receive.
Extra pricing
Here you can add your high-season vs. low-season discounts or higher pricing.
Advanced options
Here, you can implement the specific currency, a cap to stop offering when x rooms are left within a room type, limit by booking sources & status, and set who will receive the order email.
The Billing Identifier field must be used according to your upsell/service setup in your PMS (Optima, Beds24). The name under the Billing identifier will need to match the name or ID of your PMS upsell exactly.
Live Availability toggle - Only for Opera 5, Optima 1 & Mews
Duve will query the PMS directly for a live availability of the rooms in a hotel to give an accurate view of current availability for Room Upgrades. It gives access to know all availability including out of order rooms, blocked rooms etc. Live availability is not automated, it is available upon request and requires additional setup.
Used for Optima, Mews & Opera 5 - turn on the Live Availability feature
Guest Experience
This is how it will be presented to the guests during the check-in wizard and the guest area: