In this article, we will go over the Arrival Email.
The Arrival Email will automatically include the information from the Room/Rental page such as property address, access codes and Wi-Fi details. It is also possible to add any additional information you want by creating a guidebook post and enabling the "add to arrival email" in the advanced settings.
Note: Arrival messaging will only be sent up to and including Check-in day.
How to set it up?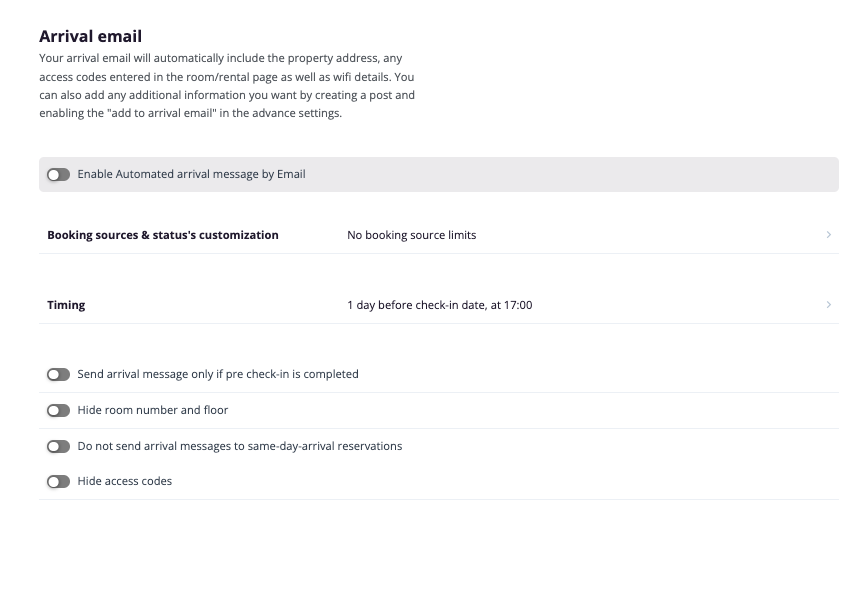 Timing:
This tab allows you to choose the timing for the email to be sent with a condition based on the check-in date.
Optional Customization:
You can control what exactly the guests will see in the email you are sending them ➝ for example you can hide the room number and floor in case you want to leave it for a specific post/time.

Choose that only guests who completed the Pre Check-in will receive the arrival email message automatically
Choose to send the arrival email only if the guest has completed their Required Documents
Choose to Hide assigned Room Number and Floor from the Arrival Email
Choose to disable arrival email to guests who reserve their room/rental on the day of their arrival
Choose to hide the access codes from the Arrival email

Note: the guests will not be able to see the codes in the Arrival email, but they will still be released to the Guest App
Preview:
At any point, you can click on the top right button - "Preview" in order to test the arrival info email yourself, directly to your email address.
Booking Sources & Status's:

You can customize this feature to be available for only some of your guests, based on their booking source or reservation status.
By default, all guests will automatically receive your arrival message.
The Custom sending rules allow you to filter who will receive the arrival message per booking source - meaning, if someone books through OTA -Airbnb, they will not receive an email for example ➝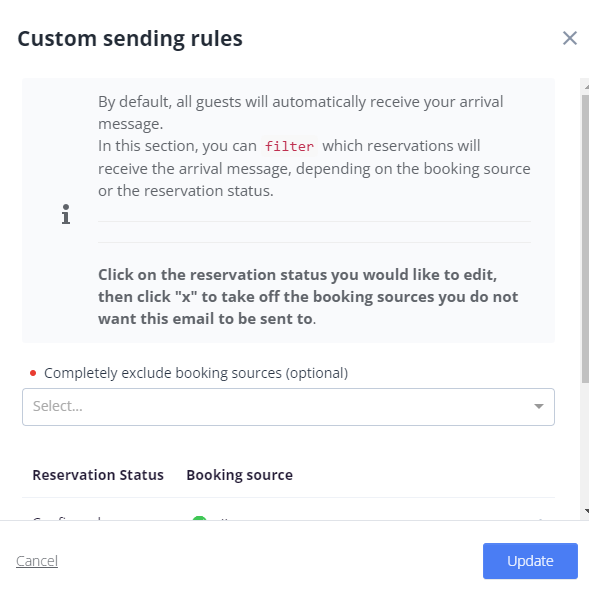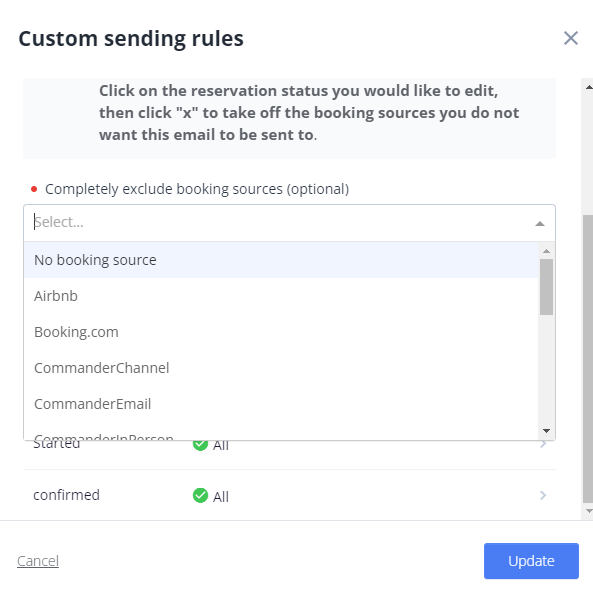 The Guest Experience:
Summary:
These are the details that are listed in the arrival email –
The rental's full address, number, and floor (if specified on the room/rental)
The rentals' lock code or key box code (if specified on the room/rental depending on your configuration)
The building's front door code (if specified on the room/rental)
Wi-Fi name & password (if specified on the room/rental)
The check-in information is based on the check-in option the guest chose in the pre-check-in wizard.
Link to the guest app, that holds all the information listed in the arrival email and more.
See our Help Article for FAQ: Arrival Info FAQ