SIHOT Integration
Integration Type:
Overview: The integration fundamentally follows a "push" model where only data updated in the SIHOT PMS gets transmitted to Duve. Here are some key details:
What we sync?
Customer's Room/Rental Information (as long as it exists in the PMS)

Room Name - External ID
Room Type - Description, External ID, Quantity
Room Number
Max number of guests

Reservation Information -

Reservation Dates
Room Allocation (or Room Type allocation)
ETA + ETD
Contact information (Name, Phone Number, email address)
Guest Profile
Reservation Numbers -

All reservations will show all External IDs as listed in SIHOT
Sub Reservations are listed as r2/r3/r4 etc..

Rate Plan
Number of Guests - adults/ baby/ children
Sihot Notes
Country

Country by phone is pulled from the country code of the phone number

Booking Source
Booking source label
Currency
Reservation statuses (from the PMS)

Confirmed
Checked-in (In House)
Checked-out (Post Stay)
Canceled
Payment for Stay
*Guest Billing is not supported for SIHOT within the Online Check-in
Once a guest is checked in, Duve has access to their folio
Only Extra Charges for the Guest will show on the Payments section after the guest is Checked-in
Live Folio - all extra charges from Sihot will appear in Duve Folio
What we push back to the PMS?
Updating to Guest Profile in the SIHOT
Guest first name
Guest last name
Guest email address
Phone number
DOB (via Custom Question field match)
Zip code (via Custom Question field match)
Address (via Custom Question field match)
Nationality (via Custom Question field match)
Country (via Custom Question field match)
Document number (passport) (via Custom Question field match)
Comments
Main booker only - Updating ETA/ETD only when the main booker updates theirs will update their sub-reservations as well. When the main booker updates his/her ETA/ETD it will also update their sub reservations ETA/ETD as a comment ad, not to the field in the PMS
Pre Checkout
General
Reservation Identification:

Main reservations are tagged r1 in PMS external ID. Duve doesn't change its external ID.
Related reservations are denoted r2/r3 in both systems.
Sub-reservations are marked differently with a sequence like **/r1, **/r2.
Ex: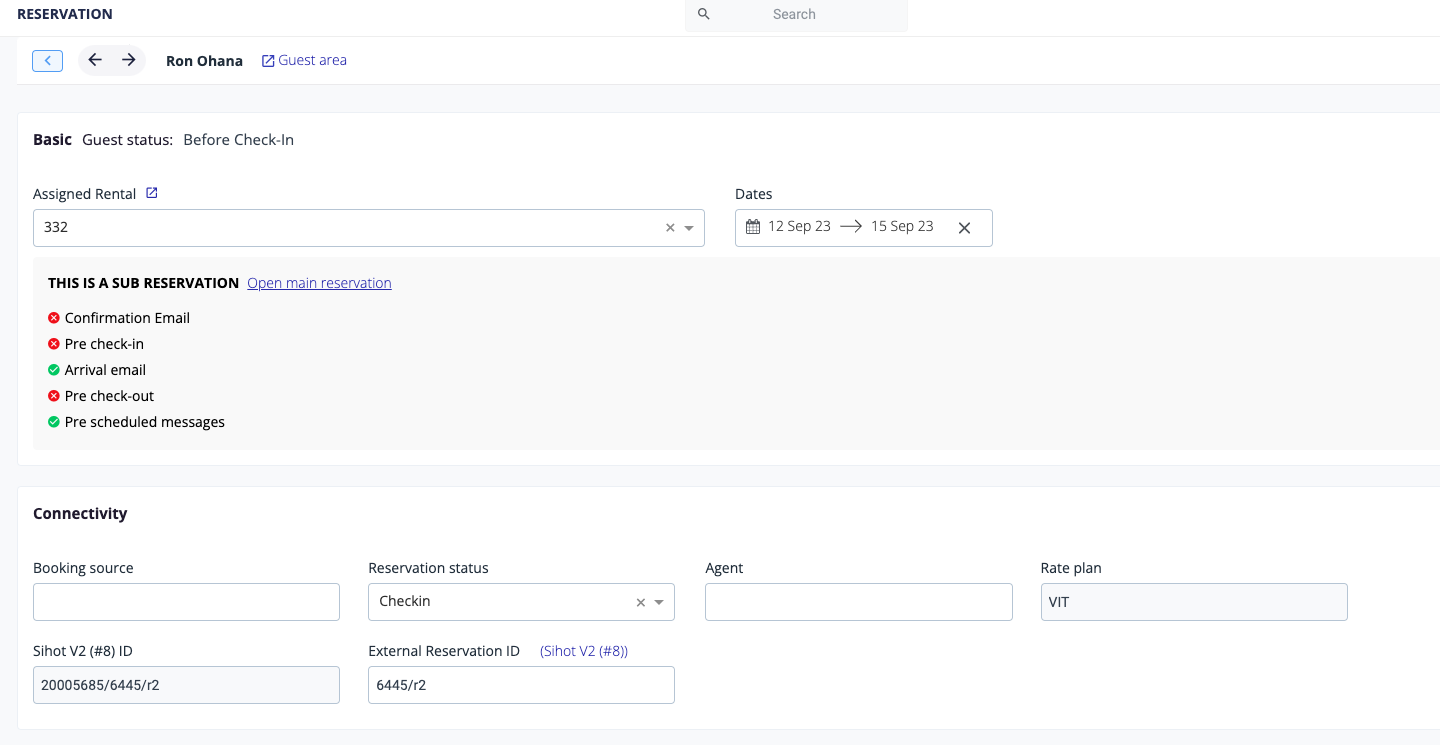 Pricing Model:

For multi-reservations, pricing is linked only to the main booker.

Sub-reservations will be able to see individual prices for those rooms.

Reservation Data:

The "Travel Agent" field in SIHOT corresponds to Booking Source in Duve.
Room type" is referred to as "Category" and "Plan Type" is called "packages".